New offset machine for immediate sale - Kollam
Saturday, 10 November 2012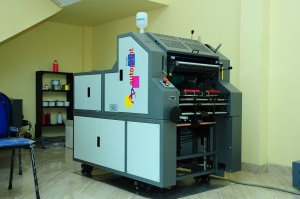 Contacts

JOHNSON B

9846021680
Item description
Autoprint Knight (Single Colour
Compact, feature-packed and user-friendly. Autoprint Knight is a Single Colour Offset Machine that can offer excellent multicolour quality at affordable prices. Autoprint Knight comes with most of the features of large offset, making this the perfect choice for small Offset Printers wishing to upgrade from Cut Colours / Two Colours to high quality multi-colour jobs.
Technical Specifications
ModelAutoprint Knight (Single Colour
Maximum Paper Size380 X 508 mm
Minimum Paper Size100 X 150 mm
Printing Area (Maximum)360 X 490 mm
Gripper Margin on Plate32 mm
Gripper Margin on Paper8 to 10 mm
Gripper Bite4 mm
Plate Size400 x500 mm
Blanket Size430 x500 mm
Paper Thickness30 gsm to 300 gsm
Inking Unit15 Inking Rollers including 3 Oscillators and 2 Form Rollers
Dampening Unit4 rollers including 1 oscillator and 1 Form Roller
Main Drive Motor1.5 HP, AC 3 Phase (Connectable to Single Phase Power Supply
Compressor Pump Motor1 HP, AC Single Phase
Print Speed1500 to 6000 iph
Special Features
Front Loading
Three Cylinder (Bearer type
Chain Delivery System
Pull Type Side Lay On Both Sides
Speed Set plate Clamps
Gear Driven Oscillators
No-Sheet / Double Sheet Detector
Ball Shoe Guides
Swing Type Ink Duct / Tank
Dry Compressor
AC Drive
Control Panel
Delivery Stacker
Centralized Lubrication System
Kompac Automatic Dampening System (Optional
ONLY 6 MONTHS OLD & IS UNDER COMPANY GUARANTEE PERIOD. SELLING DUE TO LACK OF WORK AND EMPLOYEES. THIS MACHINE IS NOT EVEN USED.